Why TikTok always faced an uphill battle
Accessibility, (mobile) data and cost leave Facebook as the global king for now
👋 Hi there, Juan Gabriel (JuanGa) here, and this is where I write about the ideas, companies and people redefining the future for the next billion internet users. If you haven't subscribed, hit this button 👇🏻
Apologies for missing last week's piece, we had a death in the near family and I spent some time with my extended family 😔

Source: Tka4enko via Dribble
Let's jump onto the TikTok bandwagon with this week's topic. Plenty has been written on TikTok's data practices and their safety implications, particularly in a highly politicized environment. There are legitimate problems with TikTok, Bytedance and the CCP; but, rather than outlining these issues here, I will leave that work to smarter minds. If you are keen on reading up, the best explanations I've seen are from Stratechery's Ben Thompson and ChinaTalk's Jordan Schneider.
However, despite all that's been written, no one has written about TikTok's shortcoming from the angle I wish to approach: data. Yes data , but perhaps not the one you have in mind. I'm not talking about your personal data (e.g., passwords, interests, and more) but rather about the mobile data most mobile-first apps consume in order to run. I'm talking about KB, MB, GB. On this account, TikTok's strategic advantage in facilitating the creation and diffusion of content was part of its disadvantage in emerging markets. Why? Because TikTok consumes too much data.
The evolution of social media
Social media platforms have progressively become more data-intensive. What sets TikTok apart from other social media platforms is the fact that it is the most successful (not first) video-first platform. Let's quickly recap this evolution.
📃 G1 | Text +
Facebook, Twitter, Reddit and their oft-forgotten predecessors (the likes of MySpace) emerged as the first generation (G1) platforms that were based on rich text with some images. Their main advantage was simply making accessible the vast troves of data and information uploaded on the internet. Of course, they have since evolved to include photos and videos, but were not designed as video-first. See the below screenshot if you need a cringe-worthy reminder of Facebook's early days (circa 2006):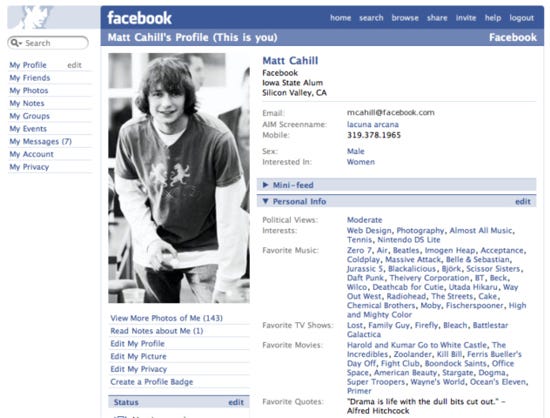 📸 G2 | Photos +
The next generation (G2) of social media included players like Instagram and Snapchat, which were built entirely around photos. Images and photos drive far more engagement than text and had a competitive advantage over Facebook and Twitter. As Ben Thompson writes:
[…] it turns out that humans like pictures more than text, and moving pictures most of all; so it has gone on the Internet. Once Facebook introduced the news feed the company quickly figured out that photos drove much more engagement; that meant that Instagram, a fledgling social network made of nothing but photos, was a tremendous threat and, once acquired, a tremendous opportunity.
🎥 G3 | Videos +
Well, it turns out that humans like moving images (video) even more than they like static images (photos). The latest generation (G3) of social media platforms are centered around short-videos. Vine had its brief moment in the spotlight, but video first only became truly become mainstream with TikTok. YouTube is of course based on video, but producing a YouTube video takes hours of work and the average videos is several minutes long. Contrast that with the seconds it takes to craft a viral-worthy TikTok video that consumes only 15 seconds of your day. TikTok made the creation and consumption of video far more accessible.
Well, at least it did if you had enough data.
Source: TikTok Italia
Gobbling up your (mobile) data
The evolution of social media has gobbled up more and more of our data plans and broadband. Text, the likes of basic tweets consume kilobytes (KB) of data. Images, like those you find on Instagram consume a few megabytes (MB) of data. But videos, even in short-form , consume multiple times more data than images, tens or even hundreds of MB. In fact, the size limit for a 15-second TikTok video is a whopping 297MB. If your phone plan includes only 1GB per month, you can chew through ~30% of your plan in less than a minute on TikTok!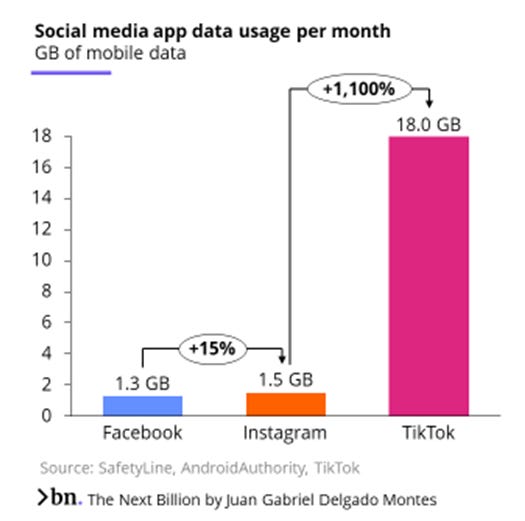 The chart above shows the average data usage per month for three social media apps: Facebook, Instagram and TikTok. Facebook uses 1.3 GB per month if a user is browsing for 30 minutes each day for 30 days. Instagram uses 1.5GB per month if a user is browsing for the same 30 minutes and same 30 days. TikTok can use a whopping 18GB per month for just 30 minutes of daily 720p video browsing per day over the same month! (see TikTok ad specifications here). Finding official data on TikTok data usage is challenging but even assuming users view videos at very low quality (240 or 320p), consumes at least 4.5 GB per month.
Take these numbers with caution! Bear in mind that these are broad and conservative figures, dependent on video resolution and numerous other factors. Instagram / Reels users can easily consume 18GB of data in a month if they so choose while TikTok users can certainly bring down data consumption to some degree by changing the video quality and number of videos they watch. However, the main point still stands: TikTok uses magnitudes more data than other social media apps.
If you are at home or under lockdown with home wifi, this is no limitation. But, if you are on your carrier's data—like most consumers in emerging markets—TikTok is nearly guaranteed to gobble your data in short time.
Take a look at the chart below that compares mobile (your phone's data plan) and fixed broadband (think of the wifi router in your house or office) subscription rates per region. Globally, mobile subscription rates win out.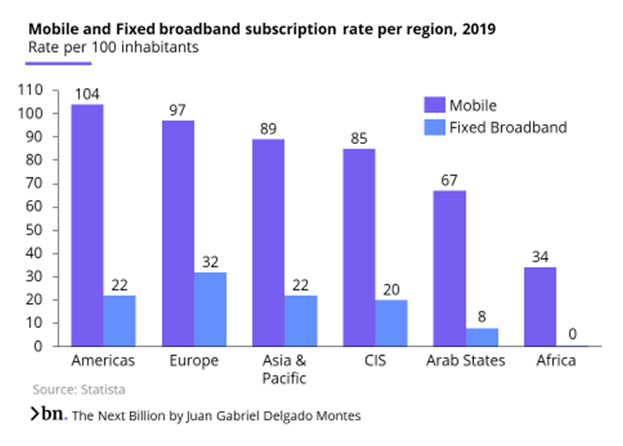 But, for many in emerging markets, and Africa in particular, mobile is the only way consumers connect to the internet. For these consumers, is TikTok worth it and truly accessible?
Using TikTok is not cheap
As I mentioned in a previous piece, the cost of 1GB of mobile data varies significantly between countries. Average consumers in emerging markets rarely have wifi at home and are rarely able to afford unlimited data plans. Mobile data is a scarce resource. In the context of scarcity where consumers allocate between numerous services including banking (e.g., OPay), access to government services and staying in touch with friends and family (e.g., WhatsApp) will TikTok entertainment be top of mind? Probably not.
It might not be a dealbreaker, but it just might be too expensive: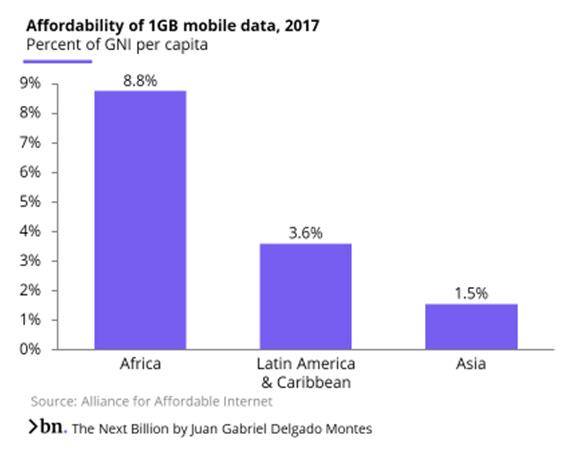 TikTok's advantage in developed markets like the USA, was always its disadvantage in emerging markets.
It is not an insurmountable task. In fact, prior to being banned, India was TikTok's single largest market with 600 million downloads. The catch is that India has one of the lowest data costs in the world at just $0.09 per GB. Streaming these videos in India is relatively cheap. TikTok can also (ironically) learn from Facebook's success with these issues and workarounds. For example, Facebook is 'zero-rated' with many carriers in emerging markets meaning that browsing on Facebook doesn't count to your data limit.
Final Thoughts…
TikTok is probably superior to Facebook / Instagram in some respects. It is designed around video and optimized for short timespans that facilitate continuous and even more addictive engagement. But, it is not yet primed for massive adoption in emerging markets.
TikTok's dependence on data-intensive video-first content limits its ability to reach the same ubiquity that Facebook achieved globally. In the worst case, it could become the social platform of choice in wealthy countries, still an enviable position. But TikTok, even beyond legitimate concerns on data and state manipulation, was never built for the Next Billion.
It is a perfect reminder that we need cheaper, faster internet in emerging markets and that solutions must be designed for local conditions. It is also ironic: TikTok, an app developed in emerging markets (China), is less accessible than Facebook / Instagram, apps developed in advanced economies (USA)
---
Thanks for reading 🙌 If you have feedback or questions, let me know by leaving a comment below, contacting me on Twitter @JuanGa_DM, or by email at thenextbn@gmail.com

Let me know your thoughts on this piece! (30 seconds)