The Last Mile for Digital Payments
Plus a few 'Quick Quirks' from emerging markets
This is a newsletter about innovation in—and beyond— Silicon Valley. From Sao Paolo to Seoul, Lagos to Lima, I write about the ideas, companies and people that are rewriting the rules of innovation and entrepreneurship. 🌎
To get this weekly newsletter subscribe below
---
The Road to Ubiquitous Payments
For my junior year internship, I moved to Uganda to help launch a start-up integrating informal service workers in the banking system. At the time, one of the main challenges we faced was facilitating digital payments at the the point of sale. Because everything was in cash and smartphones were scarce, it was difficult to transact digitally. Perhaps it was not the right moment, and perhaps this explains why the start-up folded a couple of years later. Over the past few months, I have been thinking again about how to facilitate digital payments in emerging and 'frontier' markets.
The ongoing coronavirus pandemic has accelerated the shift away from cash. Lockdowns have encouraged digital payments in both advanced economies and emerging markets, shifting purchases online via internet shopping or digital wallets. Consumers in advanced economies have welcomed Near-Field Communications (NFC) or 'contactless' payments; but, will this technology become mainstream in emerging markets? If not, what will?
Last week, Apple revealed its own Quick Response (QR) code system called App clip codes (see image below), a perfect segue for this newsletter's inaugural topic—'last mile' (point of sale) digital payments. QR codes are the ultimate blend of accessible technology and interoperability to enable ubiquitous digital payments in the emerging world.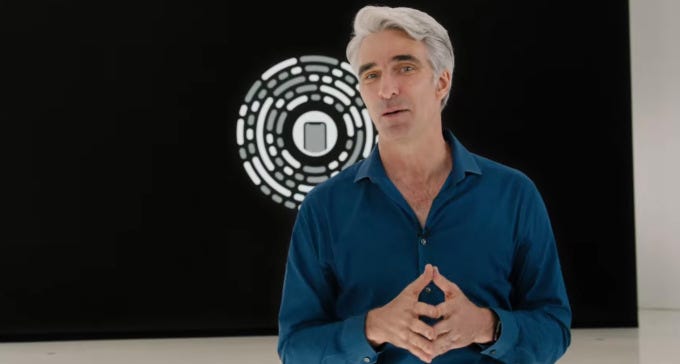 In the Europe and the USA, NFC/contactless payments are becoming commonplace while QR codes have yet to reach widespread adoption outside China. Despite these trends, I believe QR codes will become the most adopted form of payment in emerging market—but not necessarily advanced economies. Here's a brief look at QR codes and other last mile payment systems and why I think QR codes will (eventually) win out in emerging markets.
QR Codes
If you've ever scanned a barcode, you're familiar with the idea of a QR-code. They are, in essence, two-dimensional barcodes that store information in a visual pattern.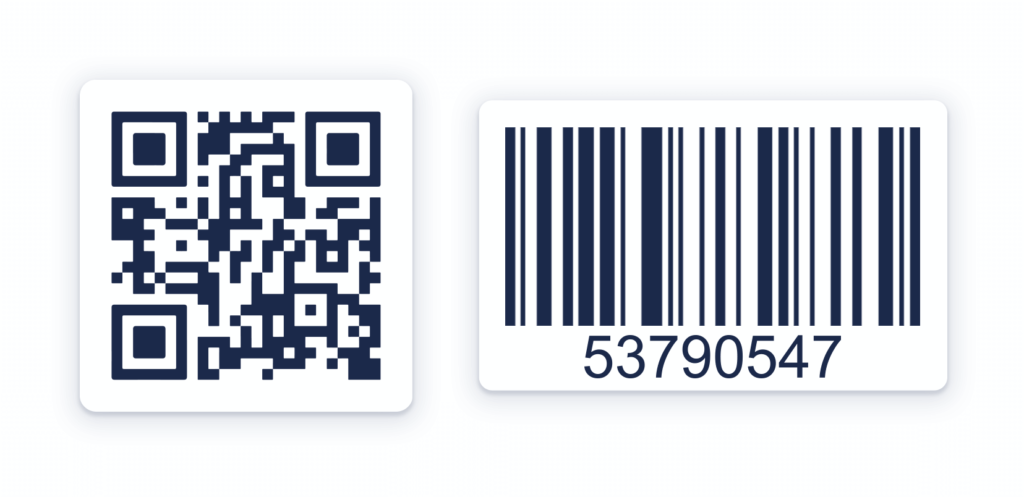 QR codes are not new technologies. They were first developed in 1994 by a Toyota subsidiary named Denso Wave to help manage components in its 'just-in-time' supply chain. Workers could scan QR codes much more quickly than barcodes, hence the name Quick Response.
But it was not until the last decade, when WeChat and Alipay began facilitating digital payments in their apps through QR codes, that these took off. In no time, Chinese consumers gained access to a myriad of services via QR codes: paying bills, registering for events, accessing public services, sharing information and more. In 2013, the Zhengzhou auto exhibition had a model with a QR code printer on her body that visitors could scan for more information on a car's specifications 😐🤔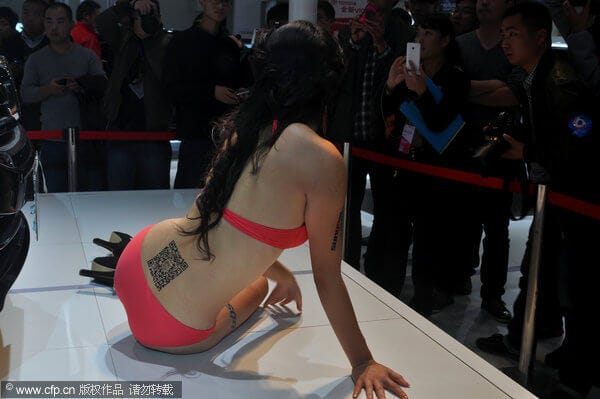 Today, QR codes have plenty of uses that include helping beggars receive funds to their digital wallets, or marking epitaphs on tombstones 😬:

QR codes are so easy to use and accessible that it took me two minutes produce the one below. Go ahead and give it a go: scan using your phone's camera (and subscribe if you haven't 🙏🏻).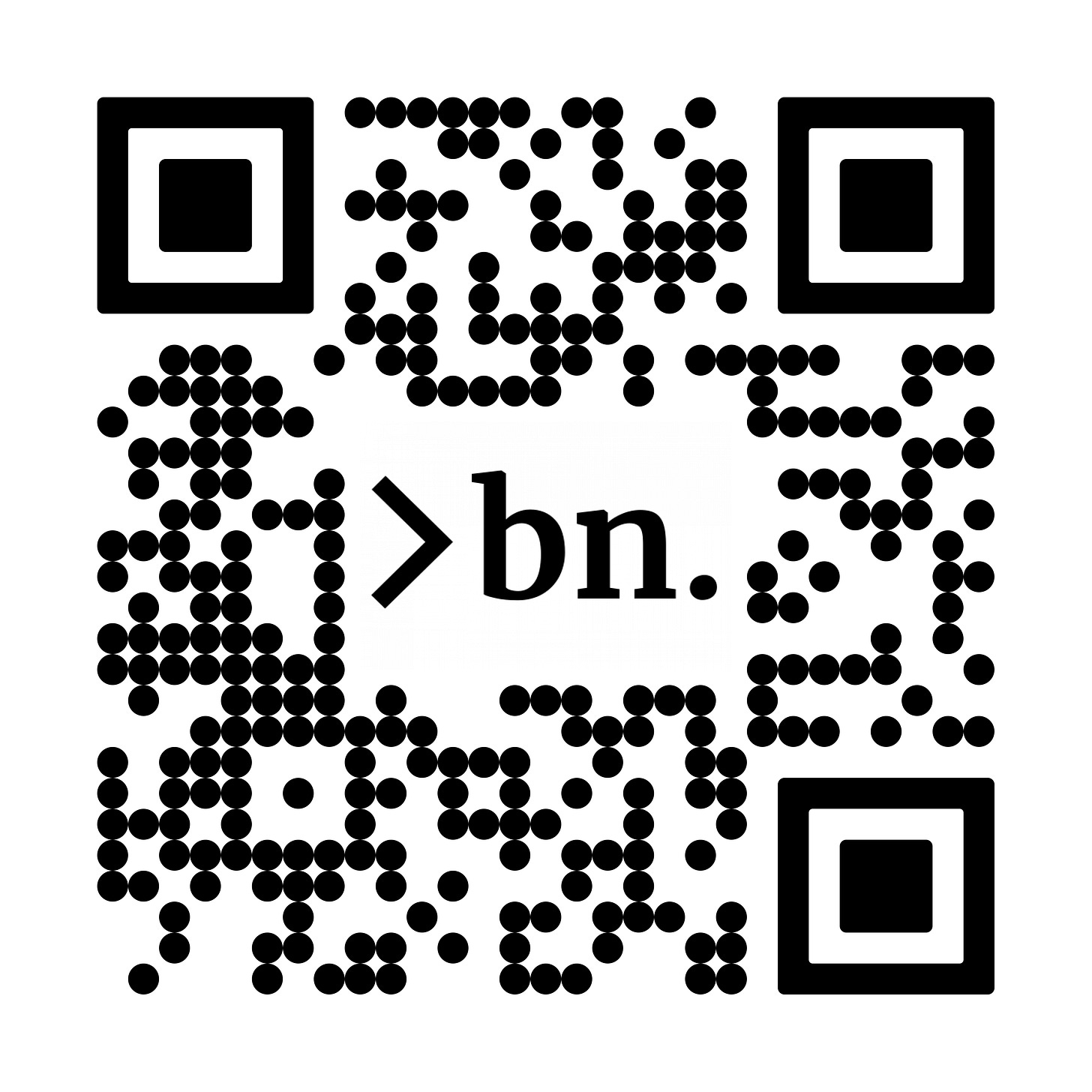 Today, more than 50% of Chinese consumers scan QR codes several times a week, far ahead of any other emerging or advanced markets.
Alternatives to QR Codes
For those in the USA and Europe, debit/credit cards and NFC/contactless payments are more mainstream than QR codes. Debit/credit cards are straightforward: a piece of plastic with a magnetic stripe that, when swiped helps initiate a transaction. To pay with credit card you need a card, a terminal to scan it and a connection to the internet to facilitate the transaction (the underlying payment system is far more complex). NFC technology is often used to replace the process of swiping the card meaning you can merely tap your credit card on the terminal. These days, you don't even need a physical card. If you have a digital wallet it is much easier to simply tap your phone on a terminal to make a purchase.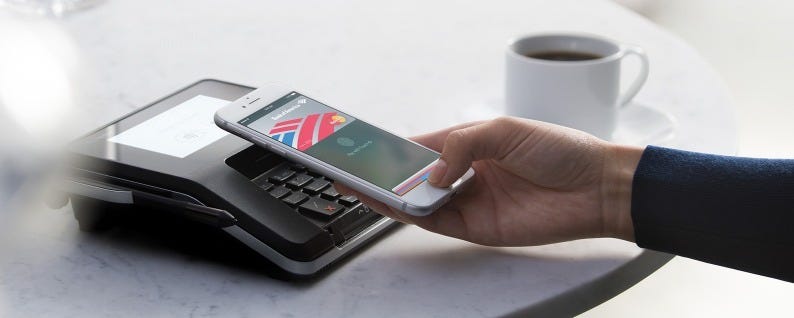 Looking Ahead at Digital Payments in Emerging Markets
QR codes and NFC have both seen increased adoption in advanced and emerging markets but neither is yet mainstream.
Regardless of what happens in advanced economies, I feel strongly that QR codes will win out in emerging markets and will become the norm for how the next billion internet users transact.
There are three main reasons for this, which I have (not very creatively) called the 3C's: cost, compatibility and consensus.
1) Costs
The vast majority of economic actors in emerging markets are micro-merchants, small enterprises best described as cost-sensitive 'mom-and-pop' shops or individual workers, rather than large department stores. In this case, think of a small barbershop in Peru or a boda boda driver (a type of motorcycle taxi) in Uganda. Globally, SMEs account for 90% of businesses and more than 50% of employment. When accepting payments, cost is an important consideration for merchants and that's why cash is king: reflect on the last time you faced a credit card minimum at a café or bar in Europe or the USA.
QR code payments create fast, and nearly-free payments for small merchants. The World Bank's CGAP writes:
Transactions using QR codes are cheaper and simpler for both acquirers [payment systems] and merchants. Acquirers benefit from lower operating costs because they do not need to deploy a point-of-sale (POS) terminal for every merchant. Retailers save the POS cost because they can use the smartphone they already own as a QR code payment acceptance terminal; for those without a smartphone, a printout of the merchant's QR code identifier pasted on the shop's wall will suffice
Most credit card or 'contactless' transactions need some form of merchant terminal to receive the customer's signal (think of Square's hardware). That is not the case for QR codes. Customers in effect bring the 'terminal' by using their smartphone to scan the merchant's QR code and their cellular connection to mediate the transaction. It is no surprise then, that some of the biggest names in payments like PayPal have been adding QR compatibility to their platforms while Central Banks in emerging markets like those of Mexico and Brazil, are creating payment rails on QR codes.
2)
Compatibility
Although several of the newest smartphone models are NFC-compatible, the emerging world is a long way from ubiquitous access to NFC-compatible phones. On the other hand, even a $60 android smartphone—the likes of which are favored by consumers in emerging markets—is capable of scanning QR codes. There is no need to download an app to extract QR codes, its as simple at point and scan at the checkout. On top of saving on costs, merchants in small and micro enterprises in emerging markets need only possess a phone, it is likely to be compatible with that of their customers.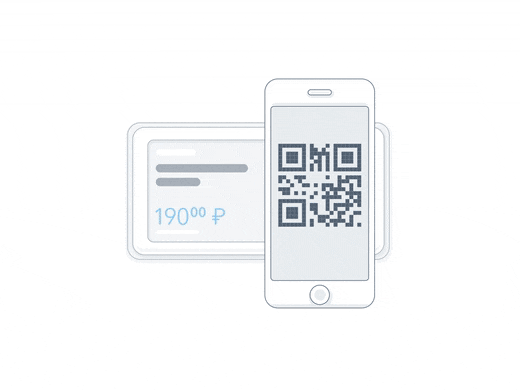 3)
Consensus
While the notion of merely tapping your phone on a terminal to pay for a purchase seems more convenient than scanning a a code, it is important to remember the bigger picture. QR codes, unlike credit cards and NFC, are more than a means to enable payments but rather a platform for engaging with brands and the world. As I highlighted earlier, these codes have all sorts of clever and even wacky uses. China, the leader in QR code adoption is practically 'painted in QR codes'. Beyond China, most of the major social media platforms have come up with QR codes that allow users to follow accounts. Payment systems need to reflect consensus with their ecosystem.
QR code reach has grown 28% between 2018-2019 according to Blue Bite, one of the leading platforms for enabling QR and NFC interactions. QR codes are maturing towards becoming far more present for consumers in advanced and emerging markets.
Most compelling for the adoption of QR payments is the fact that that they are highly customizable and visually appealing. QR codes can easily become part of a brand or product in the same way an logo embodies a brand, but in a way that NFC cannot easily achieve (see below QR codes from Tokyo Disneyland).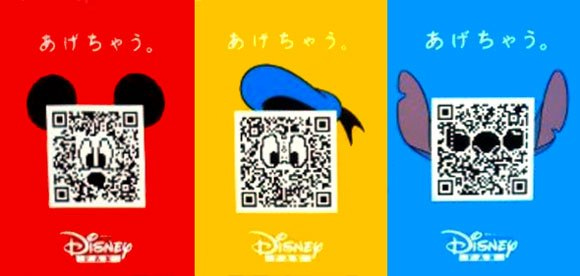 Final Thoughts
Both NFC / contactless and QR codes are easy, safe and convenient means to facilitate transactions. I expect both will see increased adoption globally in the coming years. Yet, I do expect QR codes to fare better in emerging markets because the barriers for merchants to adopt these are are much lower than for NFC. It will be interesting to follow how big tech payment solutions like Facebook's Novi (the digital wallet for Libra) and its recently launched Facebook Pay in Brazil choose to enable and push these technologies and whether the strategy will differ for emerging markets and advanced economies.
---
Visual Aid
Top AI talent from emerging markets (primarily India and China) continues to flow towards advanced economies, primarily the USA and Europe. This may seem unsurprising given the nature of AI, but this is the most eloquent depiction I have come across.
---
Quick Quirks
🌍CB Insights released the list of the 50 future unicorns for 2020. Unsurprisingly the USA topped the list accounting for 70% of unicorn predictions. Emerging markets (including China) represented only 10% of the list but included some appealing names like Argentina's Ualá, a neobank.
🛴Estonia launched the world's first Digital Nomad Visa allowing workers to live in Estonia for up to a year while working for their companies remotely. If the idea and others like it catch on, it may help workers in emerging markets work for foreign companies remotely.
🎼One of Colombia's most well-known unicorns, Rappi a last mile delivery service, has launched a livestream service. Twice Latin Grammy winner Manuel Medrano hosted a concert on Rappi's app on June 19. It signals part of the shift for large start-ups to monetize their large user bases by offering more services including entertainment, payment and more.
📈African payments start-up Chipper Cash has raised $12.3M in Series A funding. Chipper offers a P2P payments app much like Venmo but also runs Chipper Checkout, a mobile payment product aimed at merchants. The funding is part of a continued interest in the African fintech ecosystem which ha received the majority of the continent's $2 billion in VC funding in 2019.
👀 Yes, you heard right India has banned dozens of Chinese mobile apps including WeChat and TikTok on grounds that they are national security threat. This is a particularly big hit for TikTok as India accounted for 30% of the app's total downloads. Even if this is political posturing by the Indian government as some claim, it will be hard for China to argue against it …given that China has long banned many of the largest foreign technology companies such as Facebook, Google and Twitter from its market.
---
To receive this newsletter, subscribe below 🙌🏻