Going 'super' in Emerging Markets
Analyzing 'super-apps' Jumia in Africa and Mercado Libre in Latin America
👋 Hi there, Juan Gabriel (JuanGa) here, and this is where I write about the ideas, companies and people redefining the future for the next billion internet users. If you haven't subscribed, hit this button 👇🏻

This week we'll explore a topic: What is the future of Super-Apps in emerging markets? Rather than diving in on established super-apps the likes of Tencent's WeChat, I'll be looking at two apps with the most potential to successfully go 'super' in their respective markets: Jumia in Africa and Mercado Libre in Latin America. I'm not covering SE Asia this week because there is plenty of coverage of regional super-apps).

Really appreciate your feedback on the selected companies as well as any comments on on the newsletter. That being said, let's dive right in!
---
What is a 'Super-App'?
These days, you can find an app for basically anything. I remember that a few years ago every time I complained "wouldn't if be nice if we could do X on the phone" someone around the table would enlighten me by saying "there's an app for that" and point me to my next download. Over time my phone —presumably like yours— became cluttered with standalone apps.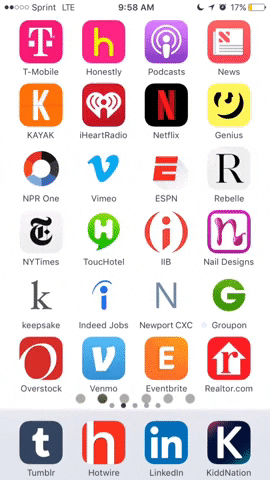 Illustration by Bryan Unger
Enter 'super-apps' to the rescue. You might be thinking about Alibaba's Alipay and Tencent's WeChat, but the notion was already embedded in the mind of then-Blackberry CEO Mike Lazaridis way back in 2010. The big idea was to offer a seamless suite of integrated services accessible from a single starting point: the app. Though Blackberry was not able to execute on the idea, others have. The most successful super-apps have gone beyond creating a bundle of apps, instead, they have created a mobile-first operating system centered on their core app.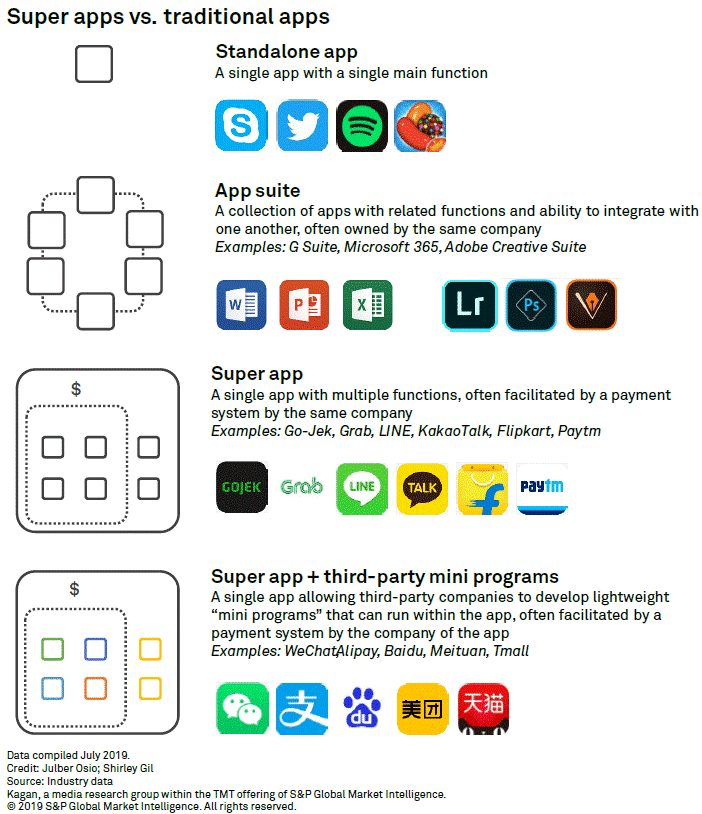 The above illustration from S&P Market Intelligence helps contextualize the difference between apps, an app suite and super-apps. You'll notice that desktop services often come as app suites (e.g., Microsoft Office), but mobile apps are increasingly emerging as super-apps.
The super-app advantage
Overall, I think super-apps have an edge on traditional stand-alone apps and I think this is the case for both advanced economies and emerging markets. Facebook has recognized this opportunity, and while I don't expect to see a single super-app from the company in the near future, it has been making strides to integrate more functionalities into its existing app portfolio. Consider, for example, the rapid inclusion of Facebook Marketplace, Facebook Pay and Workplace by Facebook in the recent years.
Most importantly, however, super-apps have an ever bigger advantage in emerging markets. These advantages can be boiled down to convenience, efficiency and adoption.
1) Convenience
Though the demands of super apps may vary between emerging markets the importance of convenience does not. Sheji Ho, a market analyst at Deal Street Asia writes:
Deep down, fundamental user behavior isn't much different across cultures or markets. Regardless of origin, users want to find information easily and quickly, want websites and apps to load quickly, look for social proof, etc.
Super apps are not perfect and have several inconveniences. No one likes to dive several taps-deep into an app to find the information or services they they need. But, that scenario often beats leaving an open app, scrolling to find the appropriate app (if downloaded) and then going several taps-deep to find the equivalent information. Aggregation is key, and more so if data captured from using the core app is leveraged to place the information the customer needs front and center. Convenience begets a natural competitive advantage for super-apps.
2) Efficiency
As you'll remember from a snippet in my second post, despite significant improvements, mobile data is still expensive in many parts of the emerging world. The chart below from Quartz shows some of the most expensive prices for 1GB of data, well beyond the means of many average consumers.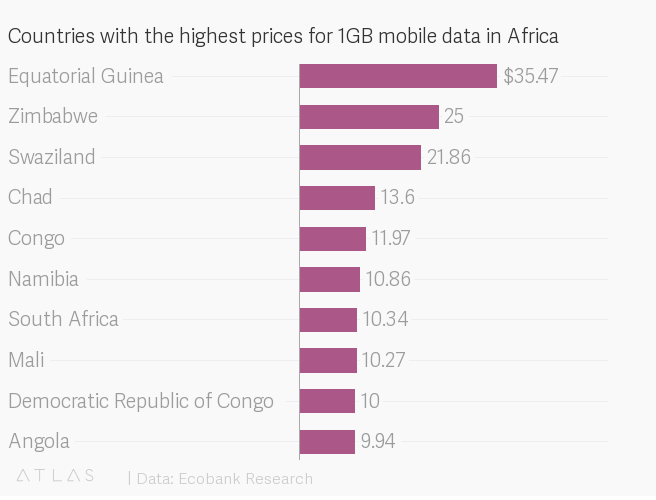 Beyond that, the average smartphone in many emerging markets costs $100-200 and does not come with top-of-the-line of storage. Super-apps help get around both challenges simultaneously. With super-apps, users need only download a single app in place of several, saving on data allowances for each download. Second, they can access multiple services in a single place that takes a lower toll on the phone's storage relative to the sum of individual apps. Packing a single app with multiple light-weight functionalities is a much more efficient and elegant problem to operate within internet and hardware constraints in emerging markets.
3) Adoption
While consumers in advanced economies use personal computers to access additional services, consumers in emerging markets leapfrogged from the pre-internet age straight into the mobile era. Emeka Ajene has eloquently depicted this process as follows (check out his writing):

In essence, the availability of PC's means that the incentive for the adoption of super-apps in advanced economies is reduced. It's easy to access the bank account from the computer, and many consumers are still used to doing that (although that too is changing). On the other hand, consumers in emerging markets are ready to jump in more eagerly into a super-app that: is convenient, saves on internet and data costs, and is built to be mobile-first if not mobile-only.
Let's look at our case studies
---
🌍 Jumia
In 2018, Africa's largest e-commerce group Jumia, launched as Jumia One (now Jumia Pay) a lifestyle app aimed to meet a suite of customer needs from a single place. It was the first move of the likes in the continent, well before other super-app competitors such as OPay. Today, it boasts a large footprint in the continent despite its decision in 2019 to exit Tanzania and Cameroon.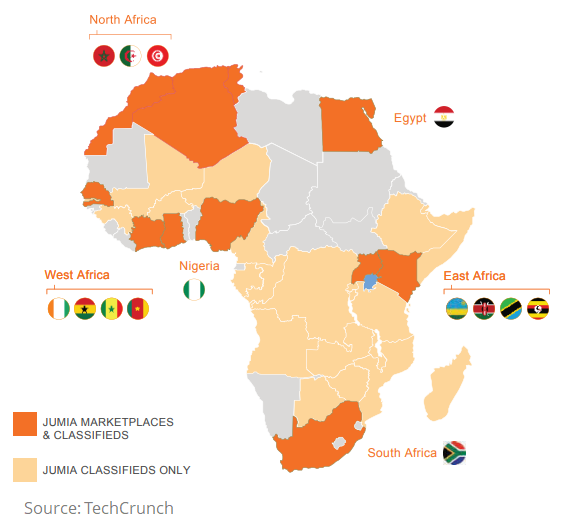 Interestingly Jumia's app was never branded as a super-app. Instead, it was seen as the natural extension of services that built upon its presence and dominance in African e-commerce. At launch, the app allowed customers to complete a wide array of activities ranging from paying phone bills, ordering food, booking travel, online betting and even listening to radio.
Nowadays, JumiaPay has also moved into facilitating payments and credit, becoming a pioneer of the digital lending market for small and medium enterprises. This too seems a natural consequence given its strength in e-commerce and the foundational payments infrastructure it has developed. By knowing what customers purchase and how they pay for it, as well as facilitating P2P payments JumiaPay can leverage this data to push additional products to its customers. As a result of its dominance, it was no surprise that Jumia Group (Jumia Pay's parent organization) went public in 2019 valued at $1.3 billion, becoming the first VC-backed African unicorn to IPO.
Covid-19 has had a significant impact on JumiaPay and broader services including its food delivery business JumiaFood. While in advanced economies the likes of UberEats and Doordash saw significant increases in volume, such an uptake was very disparate across Jumia's markets.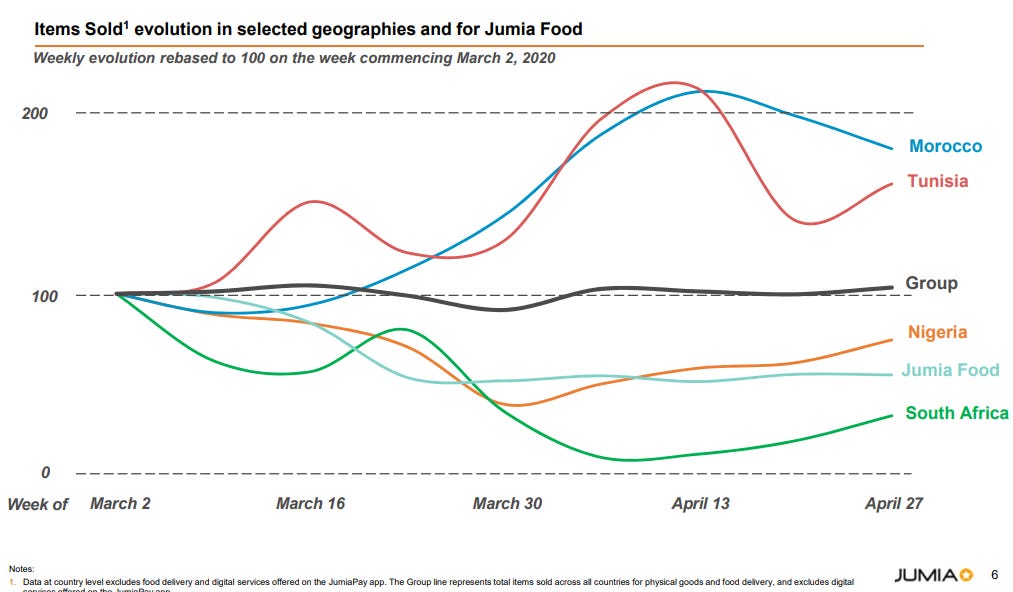 Beyond that, a suite of super-app competitors offering ride-hailing, payments and other services such as Chinese-backed OPay have surfaced in recent years. Despite these threats, Jumia seems set up to strengthen its hold in digital services: the total volume transacted on Jumia Pay rose from €21 million in Q1 2019 to €36 million in Q1 2020. In the long-run, payments will continue to be the runway to capturing other services.
---
A quick pause to remind you to subscribe if you haven't already 👇👇👇
---
🌎 Mercado Libre
Established in 1999 in Argentina, Mercado Libre is one of the darlings of Latin American tech and embodies the end goal for many of the region's entrepreneurs. Having survived the dotcom bubble it has grown from an e-commerce website to a suite of offerings including logistics and payments now worth more than $50 billion by market capitalization.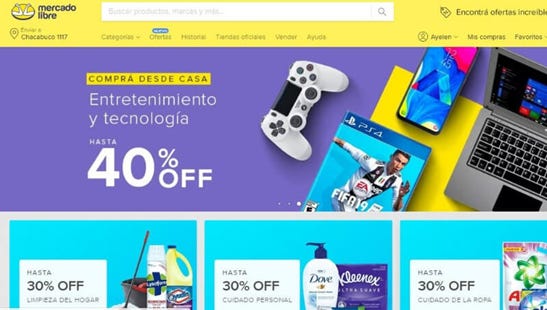 At its core Mercado Libre was likened more to eBay than anything else. But recently, after the launch of its MercadoPago payments app, it has been tacking on a diverse portfolio of offerings that include bill payments, investment services and more. Recently, The Economist likened Mercado Libre and Mercado Pago to the winning combination found in Alibaba (the e-commerce retailer) and Alipay (the payments arm:
Typically, MercadoLibre, which means "free market" in Spanish, has been compared to eBay, the American online marketplace that was an early investor. It is now worth more than its erstwhile mentor. It shares some characteristics with Amazon, with which it competes, especially in Mexico. For instance, like Amazon in its early days, it is prepared to forsake short-term profit for rapid growth. It has also been developing a logistics network. But unlike the American titan, it rarely trades on its own behalf; its e-commerce business earns a fee from transactions between buyers and sellers on its platform. In that way it resembles Alibaba, owner of China's online emporiums. Its fintech arm, Mercado Pago, is loosely modelled on Alipay, Alibaba's payments system.
The bull case for Mercado Libre is clear in the region's unbanked or informally employed workers. With a foot well into digitizing payments and delivering supplies Mercado Libre has a strong footing:
What attracts those investors most is the promise of a digital revolution in Latin America. It has been slow to get going. Last year less than 5% of retail sales in the region took place online, compared with 12% in America and 20% in China. Half of all Latin Americans lack a bank account.
Over the past year, Mercado Pago adoption has surged, a trend that is likely to be accelerated by Covid-19, despite a slow start to the year.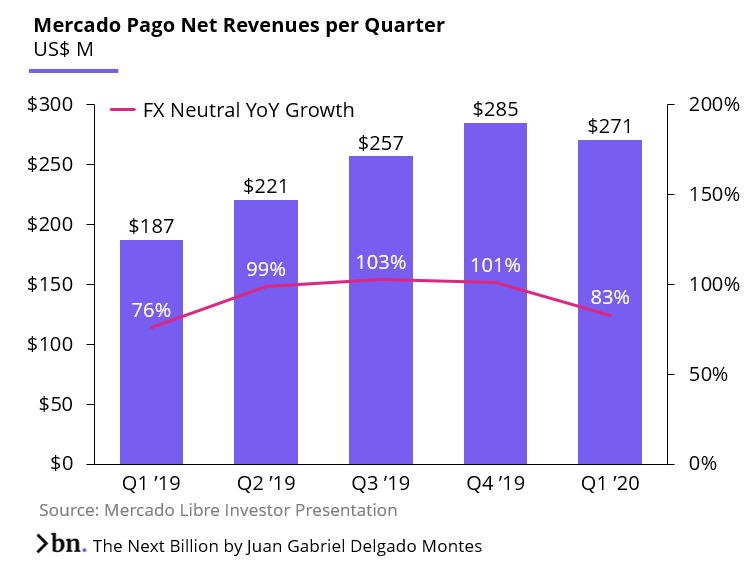 Though the total spending by consumers fell slightly at the start of 2020, what's most impressive is that Mercado Pago's wallet customer based grew by 155% YoY, leading them to reach more than 8 million unique payers. Over time, these customers may bring in additional revenue and opportunities to strengthen Mercado Pago's super-app status.
Mercado Pago has also been branching into entertainment and recently announced a partnership with HBO to bring HBO Go to customers in Mexico, Argentina and Brazil. The partnership will allow users to subscribe and pay directly from the Mercado Pago app, but also enables Mercado Libre's customers to pay in cash at convenience stores. As a note, many e-commerce companies in Latin America allow customers to pay in cash for goods ordered online at convenience store chains like Oxxo. This enables them to access digital services even if they are unbanked or underbanked. By extending the HBO GO service to this broader base, Mercado Libre makes its app, services and partnerships more relevant and accessible for local conditions.
💸 The bottom line: It's FinTech stupid
The commonality between JumiaPay, Mercado Libre, Alipay, WeChat, Gojek, Grab and the other super-app candidates is the integration of a fintech solution at heart: payments.
Alibaba, Jumia and Mercado Libre all started off as e-commerce retailers connecting buyers to sellers, but soon saw they could add more value by mediating the payments between these stakeholders. Gojek and Grab —the SE Asian super-app candidates— started as ride hailing apps that saw payments as a foot in the door for other services. WeChat started as a messaging service, but saw that it could help people by facilitating P2P payments. Facebook, Amazon, Shopify and Google have realized the same and are making their respective moves. Don't be surprised if every app becomes a fintech app.
---
Thanks for reading 🙌 If you have feedback or questions, let me know by leaving a comment below, contacting me on Twitter @JuanGa_DM, or by email at thenextbn@gmail.com

Let me know your thoughts on this piece!